Cherished, Loved and Adored
Thirty-nine years ago I married my wonderful and loving husband, Aaron, but my first marriage was a disaster. That relationship ruined part of my life with abuse, infidelity, and lies. I endured five years of pain and disappointment before my divorce.
A few months after the divorce was final, Aaron and I got married. Neither of us wanted a marriage like my first one and dedicated ourselves to learning what made a good marriage based on biblical principles.
When I decided to stop trying to change my husband and focus on me, I become a better wife. I left my husband in God's loving care.  Amazingly, WHEN I CHANGED SO DID MY HUSBAND. Our love grew stronger, we fought less and enjoyed each other's company again.
Love Your Marriage and Your Life
Women around the world have learned how to create beautiful marriages by trying the same lessons I used in my life.  Now I want you to experience the PEACE, JOY, and HAPPINESS which come from applying these BIBLICALLY SOUND PRINCIPLES and practical tips.
Not only will your marriage improve, but you will LOVE YOURSELF and YOUR LIFE.
Joyce is an international speaker, a Board Certified Biblical Counselor, and a Professional Life and Marriage Coach She provides multiple media to reach women wherever they live. She is the founder of Practical Christian Woman and taught Bible studies for over twenty years.
She is the author of the award-winning book, 12 Keys for Marriage Success, the Priorities for Life study guide, video, and audio course, the God and Your Closet journal and the Fashion and Faith audio course and workbook. She was a featured author in the Garlands of Grace ezine, contributed articles to CBN.com, and published in the Command magazine of Officer's' Christian Fellowship.
Training and Qualifications
Diploma in Women's Ministries from Light University
Board Certified Biblical Counselor through AACC (American Association of Christian Counselors)
Professional Life Coach and Marriage Coach  through ICCA (International Christian Coaching Association.)
Advanced Personality Trainer
B.A. in Psychology
Member of AWSA (Advanced Writer's and Speaker's Association)
Trainer Speaker from CLASS (Christian Leader's and Speaker's Association)
Retired military wife
Veteran homeschool mom
 "I love to see a woman's eyes light up when she grasps a new truth she can apply in her life." ~Joyce Zook
People who know me say I am a  GIFTED COMMUNICATOR, LISTENER, and WRITER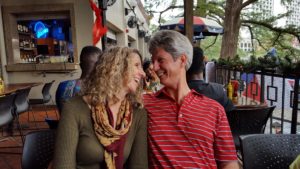 On a Personal Note
I am married to Aaron Zook, and through the ups and downs of life, we have stayed in love for 39 years. We live in the Texas pine trees at Holly Lake Ranch and have two married sons, two grandsons, and two granddaughters.
You will leave this powerful session with:
CLARITY on what you want to create in your life and marriage
UNDERSTANDING of the specific challenges which hold you back
Recommended NEXT STEPS to help you restore the intimacy in your relationships and achieve your goals
Renewed motivation and CONFIDENCE to be your most authentic self and the woman God created you to be