Guest Blogger Janet Brown
Summer is approaching and  it's time to clear our closets of the winter accumulation to get ready for summer. My friend, Janet Brown, wrote this great post about her Great  Cleaning Project.  Enjoy!
Our great cleaning project began because a bedroom closet was too full for the door to close. I laughed when I started cleaning and my two cats and husband sought refuge. They hid in fear of being shredded, filed away, boxed-up, and taken to the donation center in town.
Junky Rooms, Messy Desks, and Stuffed Closets
How many of us look the other way when we walk past our junky rooms, messy desks, or stuffed full closets? We ignore them and say to ourselves with each pass, "I'll clean that up tomorrow."  Is this you? I know it's me.
It's time to confess these messy conditions and not overlook them any longer. I don't understand how this spare bedroom got taken over with clutter, excess furniture, paper, and other discarded items. Soon my stuff will become someone else's fun and blessed treasure. I'll let it go, and in the process, I'll reclaimed the space.
Sometimes "treasure" is not a thing but is a feeling.
Blessing, spiritual freedom, and treasure came into this new-found place. Sometimes our treasure is not a thing but is a feeling. It was freeing when I let go and cleaned the closet. A weight lifted from my mind and shoulders.
Don't be conformed to the patterns of this world, but be transformed by the renewing of your minds so that you can figure out what God's will is, what is good and pleasing and mature. ~Romans 12:2
New Found Treasure
I'm excited and praying as I watch this closet and room transform.  My heart feels ready to receive the blessings, joy, and new dreams I hope to discover in this new-found space. My friends, I encourage you to bravely dive into your own messy rooms or closets. Let things go. Discover your new pleasures and treasures from your own great cleaning project.
What do you need to de-clutter in your life or in your closet?
Grab your coffee and join me as we celebrate life through joyous spiritual friendships.
JOY ─ in every season of life
BLESS ─ spiritually filled with grace
LOVE ─ God's message and gift
Janet Brown is from Belton, Texas. Find her at JoyBlessLove.com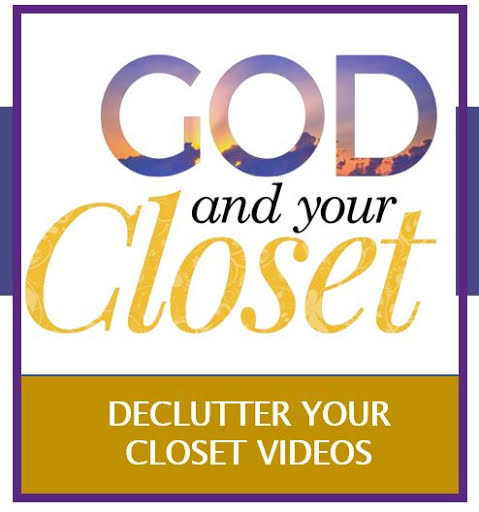 You might also enjoy Joyce's  6 short videos on how to Declutter Your Closet.
Get the videos. http://joycezook.com/product/6-free-god-and-your-closet-videos-declutter-your-closet/